Posts for: January, 2018
By John R. Gagne, D.D.S
January 19, 2018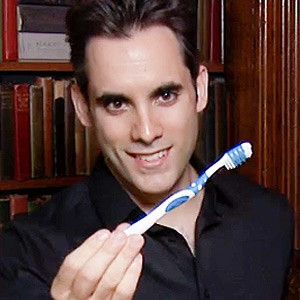 Magician Michel Grandinetti can levitate a 500-pound motorcycle, melt into a 7-foot-tall wall of solid steel, and make borrowed rings vanish and reappear baked inside bread. Yet the master illusionist admits to being in awe of the magic that dentists perform when it comes to transforming smiles. In fact, he told an interviewer that it's "way more important magic than walking through a steel wall because you're affecting people's health… people's confidence, and you're really allowing people to… feel good about themselves."
Michael speaks from experience. As a teenager, his own smile was enhanced through orthodontic treatment. Considering the career path he chose for himself — performing for multitudes both live and on TV — he calls wearing an orthodontic device (braces) to align his crooked teeth "life-changing." He relies on his welcoming, slightly mischievous smile to welcome audiences and make the initial human connection.
A beautiful smile is definitely an asset regardless of whether you're performing for thousands, passing another individual on a sidewalk or even, research suggests, interviewing for a job. Like Michael, however, some of us need a little help creating ours. If something about your teeth or gums is making you self-conscious and preventing you from smiling as broadly as you could be, we have plenty of solutions up our sleeve. Some of the most popular include:
Tooth Whitening. Professional whitening in the dental office achieves faster results than doing it yourself at home, but either approach can noticeably brighten your smile.
Bonding. A tooth-colored composite resin can be bonded to a tooth to replace missing tooth structure, such a chip.
Veneers. This is a hard, thin shell of tooth-colored material bonded to the front surface of a tooth to change its color, shape, size and/or length; mask dental imperfections like stains, cracks, or chips, and compensating for excessive gum tissue.
Crowns. Sometimes too much of a tooth is lost due to decay or trauma to support a veneer. Instead, capping it with a natural-looking porcelain crown can achieve the same types of improvements. A crown covers the entire tooth replacing more of its natural structure than a veneer does.
If you would like more information about ways in which you can transform your smile, please contact us or schedule an appointment for a consultation. You can also learn more about the techniques mentioned above by reading the Dear Doctor magazine articles "Teeth Whitening," "Repairing Chipped Teeth," and "Porcelain Crowns & Veneers."
By John R. Gagne, D.D.S
January 04, 2018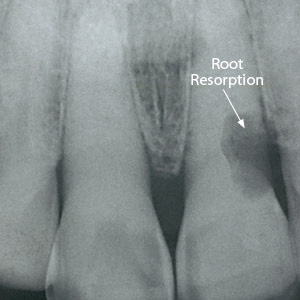 Along with the gums, your teeth's roots help stabilize them. Without them your teeth couldn't handle the normal biting forces you encounter every day. That's why a rare condition called root resorption must be treated promptly: this gradual breakdown and dissolving of root structure could eventually cause you to lose your tooth.
Resorption is normal in primary ("baby") teeth giving way for permanent teeth or sometimes during orthodontic treatment. But the form of resorption we're referring to in permanent teeth isn't normal, and is highly destructive.
The condition begins in most cases outside the tooth and works its way in, usually at the gum line around the cervical or "neck-like" region of the tooth (hence the term external cervical resorption or ECR). ECR produces pink spots on the teeth in its early stages: these are spots of weakened enamel filled with pink-colored cells that cause the actual damage. The cells create cavity-like areas that can continue to enlarge.
We don't fully understand what causes ECR, but there seems to be links with excessive force during orthodontics, tooth trauma (especially to the gum ligaments), tooth grinding habits or internal bleaching procedures. However, most people with these problems don't develop ECR, so the exact mechanism remains a bit of a mystery.
The good news, though, is that we can treat ECR effectively, provided we discover it before it inflicts too much damage. That's why regular dental visits are important, coupled with your own observation of anything out of the ordinary and immediate dental follow-up.
If the affected area is relatively small, we may be able to remove the cells causing the damage and repair the area with a tooth-colored filling. If it appears the pulp (the tooth's innermost layer) is involved, we may need to perform a root canal treatment to remove infected tissue and fill the empty space with a special filling. You may also need other procedures to reduce the chances of gum recession around the affected tooth.
Proactive dental care is your best insurance against losing a tooth to root resorption. So keep an eye on your teeth and see your dentist regularly to keep your teeth and gums healthy.
If you would like more information on the signs and treatments for root resorption, please contact us or schedule an appointment for a consultation. You can also learn more about this topic by reading the Dear Doctor magazine article "Root Resorption: An Unusual Phenomenon."