Posts for: April, 2018
By John R. Gagne, D.D.S
April 22, 2018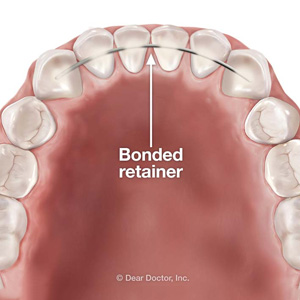 If you're currently undergoing orthodontic treatment, you're no doubt looking forward to the day your braces come off. But that won't end your treatment just yet — you'll need to wear a retainer.
Teeth are held secure in the bone of the jaw by an elastic tissue known as the periodontal ligament. As the braces "pull" the teeth to their new position, the ligament stretches and the bone remodels around the teeth. But the ligament also has a tendency to rebound as the tension eases when the braces are removed. The teeth could then return to their original position, especially during the first few months.
To prevent this patients wear an orthodontic appliance known as a retainer. It maintains some of the tension once supplied by the braces to help keep or "retain" the teeth in their new position. Depending on your age and other factors, you'll have to wear one for at least eighteen months; some patients, especially adults, may have to wear one indefinitely.
You may be familiar with a removable retainer, one you can take in and out of your mouth. But there's another type called a bonded retainer that's fixed to the teeth and can only be removed by a dentist. With this retainer a dentist bonds a thin piece of wire to the back of the teeth where it can't be seen. You can feel it, though, with the tongue: an unusual sensation at first, but one easily grown accustomed to.
Unlike their removable counterparts, bonded retainers aren't noticeable, either to others or the wearer. They're especially appropriate for patients who may not be as diligent in wearing a removable retainer.
It does, though, have some disadvantages. The position of the wire running horizontally across several teeth can make flossing difficult. And as with any retainer, removing it could increase the risk of the teeth moving out of alignment.
There are a number of factors to discuss with your orthodontist about which type of retainer is best for your situation. If you do choose a bonded retainer, be sure you work with the dental hygienist on how best to floss the affected teeth. And if you do have it removed, have a removable retainer prepared so you can preserve that smile you've invested so much into obtaining.
If you would like more information on bonded retainers following braces, please contact us or schedule an appointment for a consultation.
By John R. Gagne, D.D.S
April 12, 2018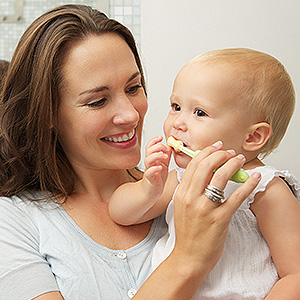 Your baby will grow into an adult so rapidly it will seem like they're changing right before your eyes. And some of the biggest changes will happen with their teeth, gums and jaw structure.
Unfortunately, disease or a traumatic accident could short-circuit this natural process and potentially create future dental problems. Here are 4 things you should be doing now to protect your baby's long-term dental health.
Start oral hygiene now. Even if your baby has no visible teeth, there may still be something else in their mouth—bacteria, which could trigger future tooth decay. To reduce bacteria clean their gums with a clean, wet cloth after each feeding. When teeth begin to appear switch to brushing with just a smear of toothpaste on the brush to minimize what they swallow.
Make your baby's first dental appointment. Beginning dental visits around your baby's first birthday will not only give us a head start on preventing or treating tooth decay, but could also give us a better chance of detecting other developing issues like a poor bite (malocclusion). Early dental visits also help get your child used to them as routine and increase the likelihood they'll continue the habit as adults.
Watch their sugar. Bacteria love sugar. So much so, they'll multiply—and more bacteria mean an increase in one of their by-products, mouth acid. Increased mouth acid can erode tooth enamel and open the way for decay. So, limit sugary snacks to only meal time and don't give them sugary drinks (including juices, breast milk or formula) in a bottle immediately before or while they sleep.
Childproof your home. A number of studies have shown that half of all accidents to teeth in children younger than 7 happen from falling on home furniture. So, take precautions by covering sharp edges or hard surfaces on chairs, tables or sofas, or situate your child's play areas away from furniture. And when they get older and wish to participate in sports activities purchase a custom mouthguard to protect their teeth from hard knocks—an investment well worth the cost.
If you would like more information on dental care for your child, please contact us or schedule an appointment for a consultation. You can also learn more about this topic by reading the Dear Doctor magazine article "Top 10 Oral Health Tips for Children."