They are inside your laptop, your DVD player... pretty much everywhere you look. Their presence in dentistry is becoming routine for a myriad of procedures. Our office has been using LASERS since 2005.
What are dentists using lasers for in the 21st century?
Oral disease detection
Treatment of gum disease and bone disease
Cavity preparations
Soothing treatment to minimize the effects of canker sores and cold sores
Now we can treat the cause of snoring with the Nightlase™ treatment regimen. We can naturally enhance oral and facial tissues with intraoral treatments with Liplase™, Smoothlase™, and Necklase™.
How Do Lasers Work?
Lasers take advantage of the quantum behavior of electrons, tiny particles inside atoms. By stimulating atoms with pulses of energy, and then using a method of optical amplification, they cause the atoms to produce a beam of coherent light. Essentially, that means that they emit light which has a great deal of energy, yet can be precisely controlled. It's the combination of high energy that makes lasers so useful.
Where Are Lasers Being Used?
First, Lasers can aid in diagnosis. Specific lasers can detect pits and fissures in teeth. Oral cancer detections are proving to be promising.
For the treatment of soft tissue problems, lasers have many advantages. They are minimally invasive tools that generally involve taking away less tissue that conventional methods. Used in gum surgery, for example, lasers can treat gum disease by killing harmful bacteria deep in pockets below the gumline, and removing the diseased tissue without harming the healthy tissue. They can also remove the thin layer of cells that inhibits reattachment of the gum and bone tissues to the tooth, while sealing off the adjacent blood vessels. This type of procedure generally results in less bleeding and pain. Lasers are also effective in treating ulcers and sores on the lips or gums.
On hard tissues, most specifically the teeth, Lasers are routinely used for precise caries removal; most often without anesthesia. Many children never see a handpiece except for finish work.
Finally, we have EXCITING new Laser treatments for the primary cause of snoring. Nightlase™ rejuvenates the pillars at the entrance of the throat to tighten up and not vibrate. Pure snoring people get amazing results. OSA and CPAP wearers can find this, in conjunction with their sleep therapists, to be a wonderful adjunct procedure.
Facial esthetics is most significantly influenced by the teeth, but the smile and associated structures including the lips, facial expression, neck structure also play vital roles. We can naturally treat these areas from within, no injections, non-contact, and give surprising results.
LipLase™ Non-Invasive Plumping for Fuller Lips without Injectables
• Fuller, smoother lips
• Stimulates collagen remodeling
• Initiates new collagen synthesis
• No needles, no downtime




Courtesy of: Harvey Shiffman, MD | Laser source: Non-Ablative Er:YAG


Courtesy of: Jolanda Grayling | Laser source: Non-Ablative Er:YAG

Courtesy of: Natasa Teovska Mitrevska, MD | Laser source: Non-Ablative Er:YAG

Lasers are a vital component to 21st century dentistry. If not being used at your present office, a major piece of technology is missing. Come visit us for more info on the amazing procedures.
Related Articles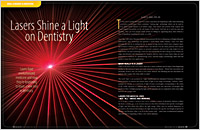 Lasers Shine a Light on Dentistry Lasers have revolutionized medicine and now they're beginning to blaze a new trail in dentistry. Today, at the dawn of the 21st century there are a variety of dental uses for lasers, from diagnosing cavities and the removal of gum and tooth structure to the treatment of disease... Read Article