Family Dentist in Waterbury, CT
All our professionals at Dr. Gagne's office maintain the highest levels of accreditation and pursue ongoing education to stay abreast of the latest trends in dentistry.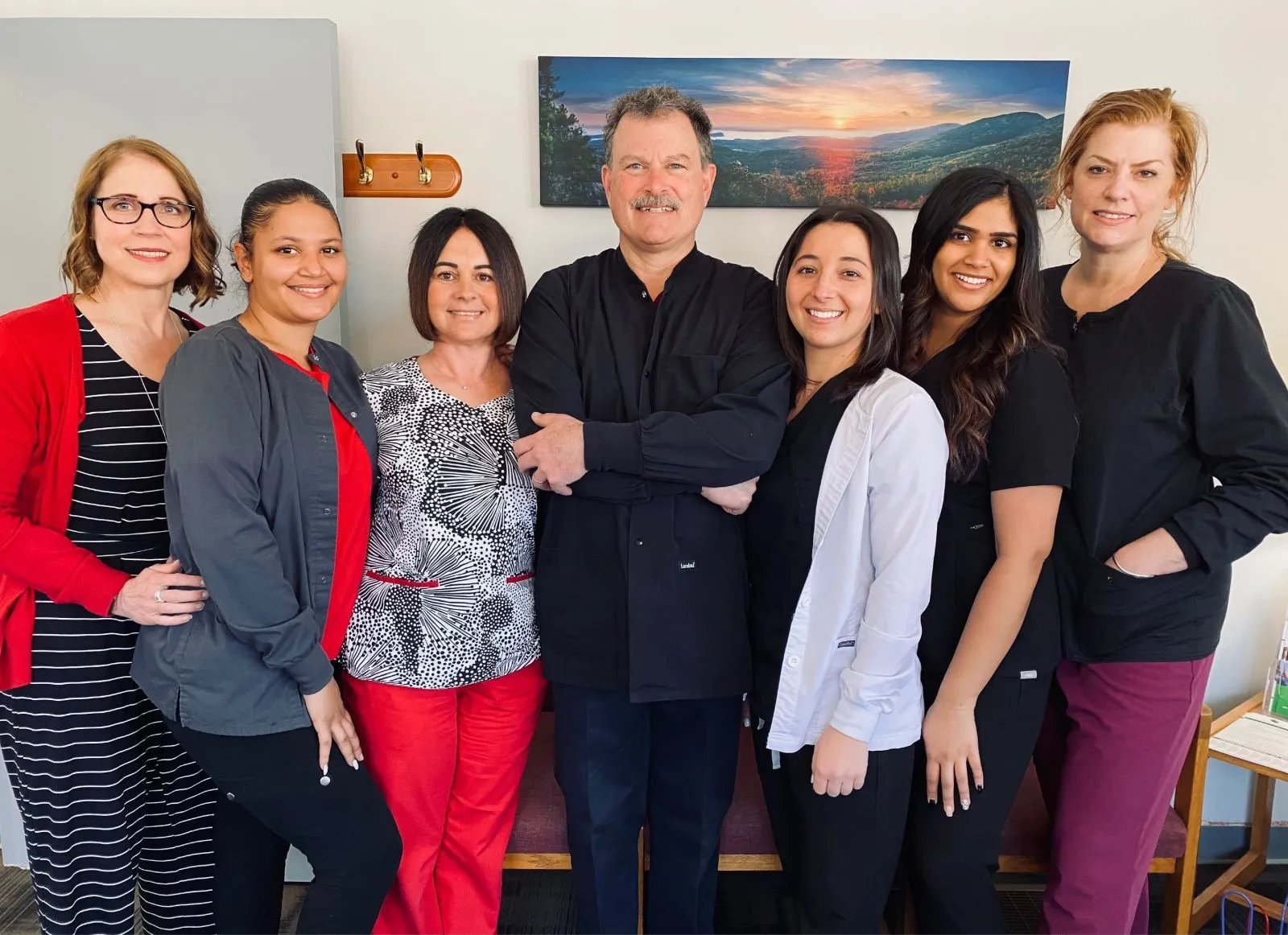 ---


John R. Gagné, D.D.S.
Family Dentist in Waterbury, CT

Education:
The Taft School , 1980
Colby College , 1984 BA Biology
Southern CT State University , 1986 MS Biology
Baltimore College of Dental Surgery, University of Maryland , 1990 DDS
St. Mary's Hospital, 1991 GPR Certificate
Attending Staff St. Mary's Hospital, 1991-2001
Organized Dentistry Involvement:
DSGW: Multiple councils and President, 1999
CSDA: Multiple councils, CSDA Delegate duties, etc.
CODPAC Chair 2002-2006, NEDLC 2003-2008, CODPAC Treasurer 2007 ADA: House of Delegates: Alt & Delegate several years (2003-2009)
Organizational Involvement:
American Dental Association , 1991-
Academy of General Dentistry , 1991-
Academy of Laser Dentistry , 2005-
International College of Dentists , Fellow Since 2009
On a Personal Note:
Dr. Gagné is a Professional Skier. He was a Level III Alpine Instructor and Level I certified Telemark Instructor. He is a graduate of Skip Barber Racing School in 2004, and holds a competition license. Training was in open wheel formula racers and he instructs with SCDA. His track car is a Lotus Evora.
In the summer he is a racing instructor. He is also an avid outdoorsman in the Maine mountains.
He has been married to his lovely wife, Susan for over 30 years. He has a Toy Poodle and is her groomer. He is quite hands on and loves to take care of his property, cars, and other things around the house. He is passionate about the use of LASERS in dentistry.
---

DeeDee
Office Manager
DeeDee graduated from Pacific College of Medical and Dental Assistants in California in 1981. She worked for 6 years as a dental assistant and receptionist. DeeDee moved to Connecticut in 1986 and worked as an assistant and receptionist before coming to work at our office in 2001 as the office manager. She is married with two sons, two grandsons, and two granddaughters. DeeDee enjoys reading, movies, working out, gardening and just spending time outdoors. DeeDee also loves spending time with her husband, dog Thor, and cats. She enjoys working with our wonderful patients and looks forward to seeing them.
---

Maureen
Hygienist
Maureen graduated from Fones School for Dental Hygiene in 1998. She has worked in our office since 1999. She loves our office and enjoys working with our patients. Maureen has two daughters and they enjoy spending time together and going on road trips. She also likes gardening. Maureen is dedicated to the dental education of her patients.
---

Ally
Hygienist
Ally graduated from the University of New Haven Dental Hygiene Program in 2020. She was a certified dental assistant for 9 years before she decided to further her education in the dental field. Ally enjoys biking, hiking, and paddle boarding. Her favorite season is summer and she loves spending time at the beach. Ally and her fiancé live in North Haven with their dog Nova. Her favorite part of being a hygienist is being able to help her patients.
---

Radha
Hygienist
Radha graduated from the University of New Haven Dental Hygiene program. She graduated in 2020 and started working with us straight out of school. Her favorite thing avout being a hygienist is getting to know her patients. Radha is from Georgia and loves to go back home to visit when she gets the chance. Radha wants to one day get her masters in education and teach dental hygiene.
---


Diane
Receptionist/ Assistant
Diane has been assisting in our office since July 1999 and got her radiology license in 2008 from the University of Bridgeport. She got her Infection Control license in March of 2017. She is an important part of our front office team. Diane is married and has two boys. She loves spending time with her family and sons. Diane also enjoys the summer and gardening. She says she likes putting a smile on people's faces.
---

DeAnndra
Assistant
Dee joined us in March of 2017. She graduated Watertown High in 2010. She attended Porter and Chester and graduated in 2015 from the Dental Assisting program. Dee is a dedicated dental assistant that loves her job. When she is not keeping our patients smiling she is being a dedicated mother to her daughter. Dee is certified in radiology, infection control, and CPR. She wishes to continue her education in hygiene to further her career in the field she loves. Dee loves nature, cooking, and family. In her free time she makes homemade / hadcrafted candles. She can't wait to meet you.