Dentist in Middlebury, CT - John R. Gagné, D.D.S.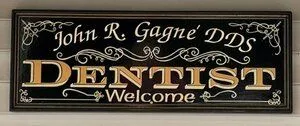 Since 1991, John R. Gagné, D.D.S. has been providing patients with the highest quality of dental care available. If you're in need of an honest, professional, and caring family dental facility, Dr. John R. Gagné and his staff are here to help you. Located in Middlebury, CT, only a short drive away from Fairfield county.
Dr. Gagné is one of the longest tenured laser dentists in the state of Connecticut. Fluent in all forms of dentistry including Laser Dentistry , Crowns and Bridges , Root Canal , Periodontics and more, Dr. Gagné is able to handle a wide range of dental situations, and use his up-to-date knowledge to keep you smiling. With the use of state-of-the-art technology and materials, including digital imaging equipment and intraoral cameras, Dr. Gagné can detect problem areas early. Through early detection of decay and other dental problems, he is able to help patients avoid costly dental procedures.
---
Discover a new dental experience at John R. Gagné, D.D.S.!
We look forward to caring for you and your family's dental needs.
We pride ourselves on taking the time to discuss one-on-one with every patient about their dental options and what to do to keep their mouth healthy all year long. With consistent, top shelf care from a doctor who builds relationships and educates while you visit, you can be sure you have made the right choice in a dentist.
Thank you for visiting our website. On these pages you will find valuable information about us and the services we provide. Whether you are a new or existing patient, please feel free to contact us if you have any questions. We look forward to hearing from you.
For dental work you can trust for the whole family, make an appointment at John R. Gagné, D.D.S. today
We Offer: